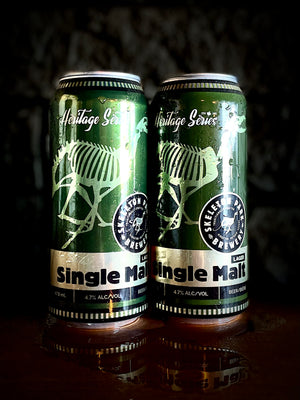 Brew History & Inspiration
Notoriously difficult to brew correctly, progressive-era lager beers imported from Europe were taking over the market share. In response, Ontario brewers innovated rapidly to produce their own delicious, local crystal- clear pale lagers. 
Tasting Notes
Balanced and delectable. Bright lemon and earthy floral aroma perfectly delivers the roasted, biscuit-like malt body. Enjoy!
20 IBU's / 4.7 ABV
Perfectly executed! Hands down one of the best stouts I've ever had! A stout that doesn't awkwardly fill you up, and leaves you wanting more!
Rob Kilbride
Amber 6.6 is seriously about the best that's out there right now. Perfectly balanced. Properly brewed! So glad you delivered to North Bay.
Alan McGowan
I had the Sol Juice on a Kingston patio and want more!
James Goodchild
Tried (the Lemon Shandy) for the first time. Sooo good!
Alex Currie
Sol Juice IPA = excellent. All other beers were quite good. Friendly front-of-house staff. I will be back!
David Rodrigues
Great tripel by a craft brewery, very Belgian style. Has the banana I like and no boozy taste. Sneaky and dangerous!
Darren N.
The whiskey finish is quite apparent. A very decent amber!
Uncle B.
Belgian Tripel is one of the best beers I've had in a very long time.
Fausto Galletta