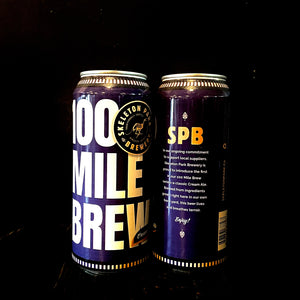 100 Mile Brew
In our ongoing commitment to support local suppliers, Skeleton Park Brewery is proud to introduce the first in our 100 Mile Brew series- a classic Cream Ale. Brewed from ingredients grown right here in our own back yard, the beer lives and breathes terroir. 


Classic Cream Ale-
Tasting Notes:
Pie dough & jasmine tea with a hint of wordiness & lime zest
IBU 18
ABV 5.5%
Perfectly executed! Hands down one of the best stouts I've ever had! A stout that doesn't awkwardly fill you up, and leaves you wanting more!
Rob Kilbride
Amber 6.6 is seriously about the best that's out there right now. Perfectly balanced. Properly brewed! So glad you delivered to North Bay.
Alan McGowan
I had the Sol Juice on a Kingston patio and want more!
James Goodchild
Tried (the Lemon Shandy) for the first time. Sooo good!
Alex Currie
Sol Juice IPA = excellent. All other beers were quite good. Friendly front-of-house staff. I will be back!
David Rodrigues
Great tripel by a craft brewery, very Belgian style. Has the banana I like and no boozy taste. Sneaky and dangerous!
Darren N.
The whiskey finish is quite apparent. A very decent amber!
Uncle B.
Belgian Tripel is one of the best beers I've had in a very long time.
Fausto Galletta