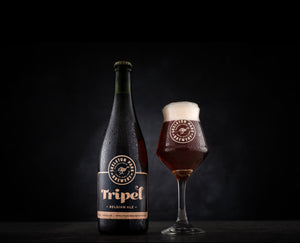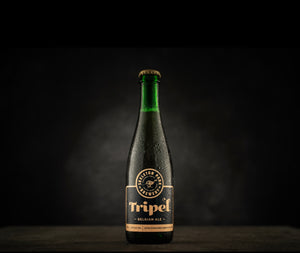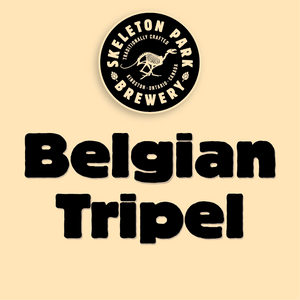 This rare and rich Trappist ale offers deep, bready-sweet and fruit flavours.
The Belgian Tripel was developed within the walls of Trappist monasteries by monks who are arguably the finest brewers on the planet. The style was crafted with artistic passion and precision. In time, it carved out its rightful spot as one of the world's greatest beer styles.
Taste:
Complex and aromatic. On the nose expect spicy notes of pepper and clove complementing deep orange and bright lemon aromas. A touch of malty grain cracker and bread-like sweetness followed by notes of candied orange zest will delight the palate to the end of every sip.
ABV: 11.2%
IBU: 18
A truly wealthy ale worthy of its name.
Tripel gets its name from the generous amount of ingredients used in brewing. It makes for a rich-tasting and stronger ale, with a complex flavour profile, and is not for the faint of heart. It's also not often you'll find a beer perfected by Trappist monks and popularized in Belgium being brewed in Ontario, Canada, but our brewmaster was up for the challenge. We believe we've brewed an authentic Tripel that would meet with the monks' approval.

"If you haven't discovered this style of beer yet, you need to get on this. It's eye opening, to say the least." ~ Trevor Lehoux, Brewmaster
Perfectly executed! Hands down one of the best stouts I've ever had! A stout that doesn't awkwardly fill you up, and leaves you wanting more!
Rob Kilbride
Amber 6.6 is seriously about the best that's out there right now. Perfectly balanced. Properly brewed! So glad you delivered to North Bay.
Alan McGowan
I had the Sol Juice on a Kingston patio and want more!
James Goodchild
Tried (the Lemon Shandy) for the first time. Sooo good!
Alex Currie
Sol Juice IPA = excellent. All other beers were quite good. Friendly front-of-house staff. I will be back!
David Rodrigues
Great tripel by a craft brewery, very Belgian style. Has the banana I like and no boozy taste. Sneaky and dangerous!
Darren N.
The whiskey finish is quite apparent. A very decent amber!
Uncle B.
Belgian Tripel is one of the best beers I've had in a very long time.
Fausto Galletta