Real Ale #4 Cask Conditioned Spiced Tripel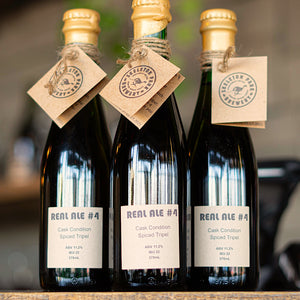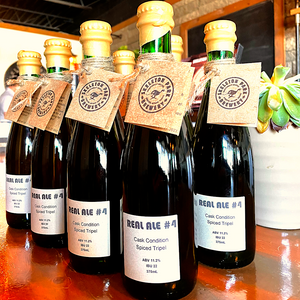 Rare release! Only 100 bottles available
Our fourth real ale was originally planned as a taproom-only release, but this winter's COVID-19 lockdown forced a change of plans. So, our Brewmaster, Trevor, and Master of Cellar, Taylor, decided to condition this spiced Tripel in-cask until it could be bottled for our fans to enjoy at home.
While quantities last
We've taken our Limited Edition Trappist-style ale, spiced it, then aged it to intensify its delicious flavours. Each exclusive, wax-sealed 375ml bottle is hand packaged and labeled. This rare, real ale will not last long, so order now while quantities last.
Taste: Notes of cherry, light toasted nuts, dark chocolate, with a smooth vanilla finish.

ABV: 11.2%
IBU: 22
Perfectly executed! Hands down one of the best stouts I've ever had! A stout that doesn't awkwardly fill you up, and leaves you wanting more!
Rob Kilbride
Amber 6.6 is seriously about the best that's out there right now. Perfectly balanced. Properly brewed! So glad you delivered to North Bay.
Alan McGowan
I had the Sol Juice on a Kingston patio and want more!
James Goodchild
Tried (the Lemon Shandy) for the first time. Sooo good!
Alex Currie
Sol Juice IPA = excellent. All other beers were quite good. Friendly front-of-house staff. I will be back!
David Rodrigues
Great tripel by a craft brewery, very Belgian style. Has the banana I like and no boozy taste. Sneaky and dangerous!
Darren N.
The whiskey finish is quite apparent. A very decent amber!
Uncle B.
Belgian Tripel is one of the best beers I've had in a very long time.
Fausto Galletta