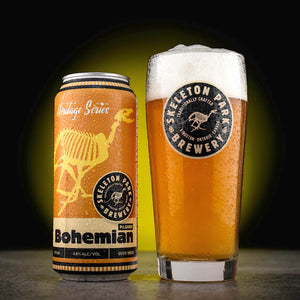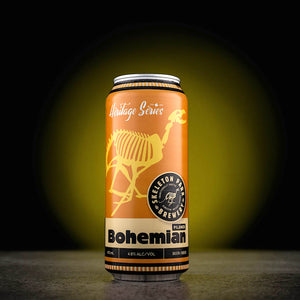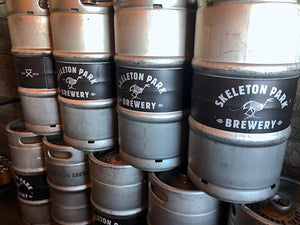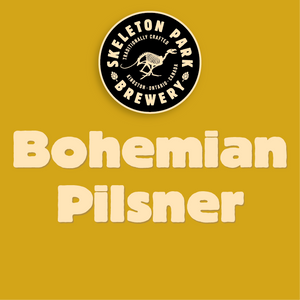 The original pilsner

How Czech beer makers created this recipe is a mystery. For the first time in history, a pale-golden, crystal-clear beer appeared. The style was, and still is, characterized by its toasty, biscuit-like malt body and distinguished spicy-hop aromas.
Taste: The up-front flavour of toasty biscuit and bready sweetness abruptly gives way to a subtle bitterness with a clean finish. Slight aromas of spices and pepper perfectly balance the malt body and gives this pilsner the character it deserves.
ABV: 4.8%
IBU: 26
Recreating the brew that revolutionized beer.
Before prohibition, the Bajus Brewing Company was one of Kingston's four main breweries. Researching the family, we discovered they had emigrated to Canada from what is present-day Czech Republic. It was there, in Bohemia, where pilsner beer was created and perfected. The popularity of this easy drinking, golden-clear beer spread across Europe and overseas, so it's highly likely that the Bajus family brought their pilsner recipe with them, and began brewing it here in Kingston. Today, we brew our version using the same floor-malted Bohemian barley the Bajus Brewing Co. would've used that gives an authentic pilsner its distinct and delicious flavour.
"A true pilsner is notorious for having nothing to hide behind, so I need to be completely on-the-ball when I'm brewing our Bohemian. The slightest brewing mistake will be evident in the flavour. "
~ Trevor Lehoux, Brewmaster
Perfectly executed! Hands down one of the best stouts I've ever had! A stout that doesn't awkwardly fill you up, and leaves you wanting more!
Rob Kilbride
Amber 6.6 is seriously about the best that's out there right now. Perfectly balanced. Properly brewed! So glad you delivered to North Bay.
Alan McGowan
I had the Sol Juice on a Kingston patio and want more!
James Goodchild
Tried (the Lemon Shandy) for the first time. Sooo good!
Alex Currie
Sol Juice IPA = excellent. All other beers were quite good. Friendly front-of-house staff. I will be back!
David Rodrigues
Great tripel by a craft brewery, very Belgian style. Has the banana I like and no boozy taste. Sneaky and dangerous!
Darren N.
The whiskey finish is quite apparent. A very decent amber!
Uncle B.
Belgian Tripel is one of the best beers I've had in a very long time.
Fausto Galletta