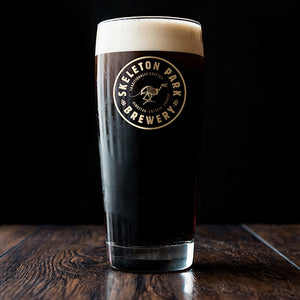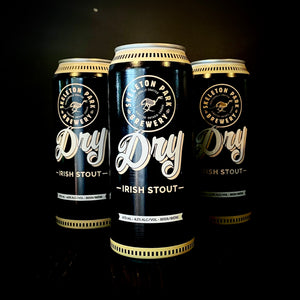 Stout. The Way It Should Be.
Our limited-time winter seasonal release, Dry Irish Stout, is exactly what it's name implies: An authentic, Irish-inspired stout, brewed dry and drinkable, with all of the flavour and none of fancy frills. Expect notes of dark chocolate, hints of wood smoke, and touch of nuttiness.


A Salute To Kingston's Irish Ancestry
In the 1800s, tens of thousands of Irish immigrants landed in Kingston, many finding work as labourers in the building of the Rideau Canal. They brought with them their culture, their fiery Irish spirit, and of course, their beer. After malaria, cholera, and typhus ravaged their ranks, many of them were buried right here, in Kingston's Skeleton Park. Our Dry Irish Stout is our way of honouring the hundreds of hard-working Irish who gave their lives to help build our great country.
Perfectly executed! Hands down one of the best stouts I've ever had! A stout that doesn't awkwardly fill you up, and leaves you wanting more!
Rob Kilbride
Amber 6.6 is seriously about the best that's out there right now. Perfectly balanced. Properly brewed! So glad you delivered to North Bay.
Alan McGowan
I had the Sol Juice on a Kingston patio and want more!
James Goodchild
Tried (the Lemon Shandy) for the first time. Sooo good!
Alex Currie
Sol Juice IPA = excellent. All other beers were quite good. Friendly front-of-house staff. I will be back!
David Rodrigues
Great tripel by a craft brewery, very Belgian style. Has the banana I like and no boozy taste. Sneaky and dangerous!
Darren N.
The whiskey finish is quite apparent. A very decent amber!
Uncle B.
Belgian Tripel is one of the best beers I've had in a very long time.
Fausto Galletta