Hanna's Pies & Heritage Series Mixed Packs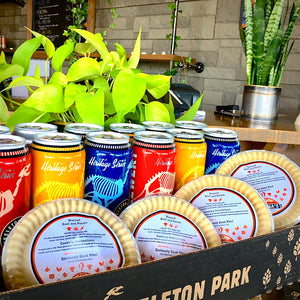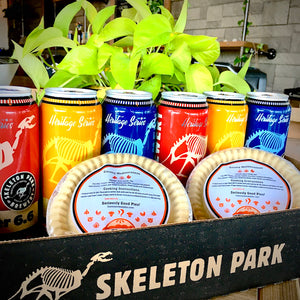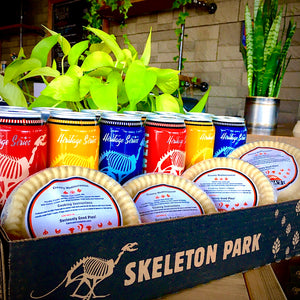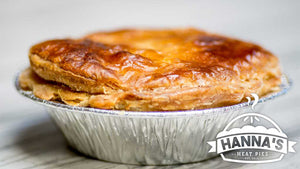 LOCALLY-MADE SAVOURY PIES & CRAFT BEER

Delivery of this special is available in the greater Kingston area only.
We've partnered with Hanna's Meat Pies of Sydenham to bring you a delicious new craft beer and meal deal! While quantities last, get 2 qty. five-inch, locally-made savoury pies with our Heritage Series mixed 6-pack of 473ml cans for $29.99, or 4 qty. pies with a mixed 12 pack for $57.99.

Enjoy our Amber 6.6 ale, Proper English Ale, and Bohemian Pilsner along with your choice of Hanna's Braised Beef & Potato or Creamy Mediterranean Vegetable pie. Created with uncompromising care using the best local, all-natural ingredients, Hanna's handmade pub-style pies are flavourful, and filling. Pies bake from frozen in 45 minutes.
KINGSTON ONLY, WHILE QUANTITIES LAST!
Online orders of this special are available for pick-up at our brewery retail store, or for delivery in the greater Kinston area only. Order soon! Quantities are limited and will sell out quickly.
ABOUT HANNA'S BRAISED BEEF & POTATO PIE
Dry-aged beef from an esteemed and experienced local butcher is slow braised in a breathtakingly delightful home-made stock that is focused on a red wine and tomato paste, reminiscent of a gourmet beef bourguignon, and makes for a memorable and taste-enhancing gravy. The addition of carrots, celery, onions and a dash of garlic make for a true, hearty traditional meat pie that will win over even the most fickle of palates.
Ingredients: flour, salt, butter, braised beef, potato, onions, carrots, mushrooms, beef stock, red wine, tomato paste, fresh herbs and seasonings.
Allergen alert: Contains gluten and dairy.
ABOUT HANNA'S CREAMY MEDITERRANEAN VEGETABLE PIE
For those who prefer a meat-free option but still a hot, hearty and filling meal, our tried and true mix of the choicest roasted red peppers, sun-dried tomatoes, along with heaping portions of fresh potatoes, carrots, corn, onion and garlic is the pie for you. Chunks of locally-sourced artisanal feta cheese and a mouth-watering cream sauce make this pie perfect for vegetarians or those looking for a lighter option.
Ingredients: flour, salt, butter, potato, onions, carrots, roasted red
pepper, feta cheese, cream, sun dried tomatoes, fresh herbs and seasonings.
Allergen alert: Contains gluten and dairy.

ABOUT HANNA'S CHICKEN & VEGETABLE PIE
The best, most tender, juicy and flavour-filled braised free-range chicken is enveloped in a perfectly matched white wine sauce which is indicative of the best restaurant calibre coq-au-vin. It's a savoury meal fit for the most sophisticated of tastes. 
Ingredients: flour, butter, salt, whole chicken, onion, carrots, celery, corn, mushrooms, chicken stock, white wine, bacon, fresh herbs and seasonings.
Allergen alert: Contains gluten and dairy. 
Perfectly executed! Hands down one of the best stouts I've ever had! A stout that doesn't awkwardly fill you up, and leaves you wanting more!
Rob Kilbride
Amber 6.6 is seriously about the best that's out there right now. Perfectly balanced. Properly brewed! So glad you delivered to North Bay.
Alan McGowan
I had the Sol Juice on a Kingston patio and want more!
James Goodchild
Tried (the Lemon Shandy) for the first time. Sooo good!
Alex Currie
Sol Juice IPA = excellent. All other beers were quite good. Friendly front-of-house staff. I will be back!
David Rodrigues
Great tripel by a craft brewery, very Belgian style. Has the banana I like and no boozy taste. Sneaky and dangerous!
Darren N.
The whiskey finish is quite apparent. A very decent amber!
Uncle B.
Belgian Tripel is one of the best beers I've had in a very long time.
Fausto Galletta