Real Ale #10 Cask Conditioned Cherry Infused Brett Scout 375 mL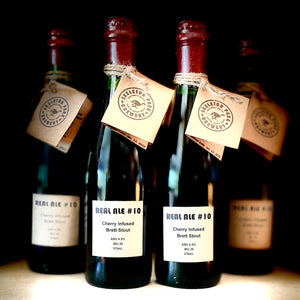 Real Ale #10 Cask Conditioned
Cherry Infused Brett Stout 
Back in October, our brewmaster Trevor had prepared a special cask conditioned ale to celebrate the Christmas Holidays, however, the day never came due to the current Covid-19 crisis and we had to cancel the event. Trevor worked incredibly hard and figure out a way to transfer this beautiful limited batch into bottles preserving almost all the qualities of a live beer served from a cask. We only have a small quantity of the our Real Ale #10 and it won't last, so hurry up and get your orders in while they last. 


Tasting note:
Less the sweetness, imagine Black Forrest cake in a glass enhanced with a hints of dark roast coffee, slight sourness and an earthy musk rounding out the back end. Mysteriously complex and brilliant in every way. 
ABV 4.5%
IBU 25
Perfectly executed! Hands down one of the best stouts I've ever had! A stout that doesn't awkwardly fill you up, and leaves you wanting more!
Rob Kilbride
Amber 6.6 is seriously about the best that's out there right now. Perfectly balanced. Properly brewed! So glad you delivered to North Bay.
Alan McGowan
I had the Sol Juice on a Kingston patio and want more!
James Goodchild
Tried (the Lemon Shandy) for the first time. Sooo good!
Alex Currie
Sol Juice IPA = excellent. All other beers were quite good. Friendly front-of-house staff. I will be back!
David Rodrigues
Great tripel by a craft brewery, very Belgian style. Has the banana I like and no boozy taste. Sneaky and dangerous!
Darren N.
The whiskey finish is quite apparent. A very decent amber!
Uncle B.
Belgian Tripel is one of the best beers I've had in a very long time.
Fausto Galletta