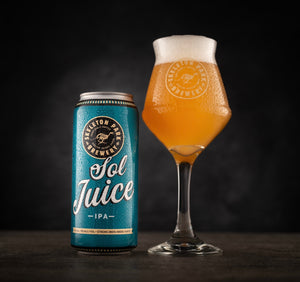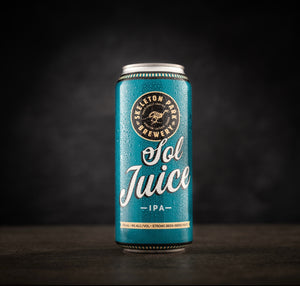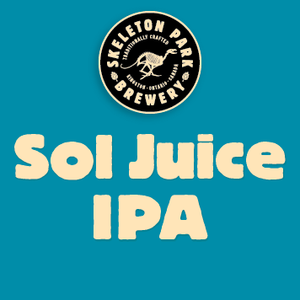 Big, juicy flavour with a bitterness that won't offend.
This broad, citrusy India Pale Ale clocks in at an unapologetic 42 IBU. It is dry-hopped later in the brewing process with a hearty dose of Citra hops, and retains a bold bitterness that finishes sharp. This bold, yet easy-drinking beer, wins the hearts of craft beer enthusiasts and average beer lovers alike.
Taste:
Dry as a bone and juicy as all get-out. Expect a big citrus aroma and flavour, coupled with delightfully subtle notes of lychee fruit. Bitterness is bold, yet not overpowering, making this a truly enjoyable India Pale Ale.
ABV: 6%
IBU: 42
A thirst-quenching beer for the warm and sunny summer season.
Like it's 1800s predecessors, our Sol Juice IPA was designed for warmer weather. For English settlers living in colonial India, hops were added to homeland-brewed ales to better preserve them for their overseas journey. Lighter in colour and more bitter in taste, British colonialists living in warmer climates developed a taste for these thirst-quenching India Pale Ales. Hazy with a juicy mouthfeel, we think our Sol Juice IPA tastes like sunshine in a glass.

"Brewing Sol Juice IPA is challenging. To get it right, you basically have to do everything you're not supposed to do, as odd as that sounds."
~ Trevor Lehoux, Brewmaster
Perfectly executed! Hands down one of the best stouts I've ever had! A stout that doesn't awkwardly fill you up, and leaves you wanting more!
Rob Kilbride
Amber 6.6 is seriously about the best that's out there right now. Perfectly balanced. Properly brewed! So glad you delivered to North Bay.
Alan McGowan
I had the Sol Juice on a Kingston patio and want more!
James Goodchild
Tried (the Lemon Shandy) for the first time. Sooo good!
Alex Currie
Sol Juice IPA = excellent. All other beers were quite good. Friendly front-of-house staff. I will be back!
David Rodrigues
Great tripel by a craft brewery, very Belgian style. Has the banana I like and no boozy taste. Sneaky and dangerous!
Darren N.
The whiskey finish is quite apparent. A very decent amber!
Uncle B.
Belgian Tripel is one of the best beers I've had in a very long time.
Fausto Galletta